Katie Klein's got another awesome recipe for us! In addition to making some delicious gimbap, she's a whiz at Korean fusion. Check out her use of napa cabbage in a unique and creative new way.
Napa Cabbage Salad with Oranges, Spicy Shrimp, and Rice Wine Vinaigrette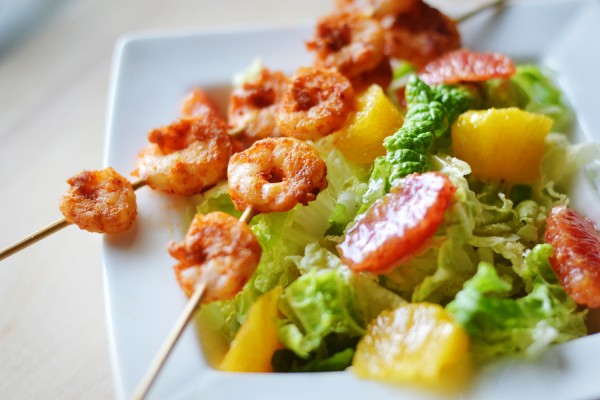 We all know napa cabbage as the light, crunchy building block of kimchi, adorning countless dishes with a fresh, spicy jolt of flavor. Unlike other varieties of cabbage, its leaves are delicate and refreshing, rather than bulky and thick. It is delicious characteristics such as these that made me want to explore more of the possibilities napa cabbage has to offer. Kimchi's an essential Korean dish, no doubt, but surely there were other ways to make use of this yummy vegetable.
It was this thought, as well as a craving for light, summery food that inspired this recipe. Because napa cabbage is so pleasantly lettuce-like, it lends itself beautifully to the world of salads. By shredding the leaves in large strips, the cabbage immediately turns into a tasty bowl of salad greens. In order to further echo the vegetable's Korean roots, the salad is served alongside spicy, flavorful shrimp skewers, seasoned with gochugaru, garlic, ginger, and soy sauce, as well as a refreshing rice wine vinaigrette. To balance the salad's rich, savory notes, it's topped with juicy segments of regular and blood oranges.
These delightful bites of citrus elevate the salad to a lovely, refreshing place with their bright punch of color and their undeniable yummy factor. All together, this simple salad makes for a light, tasty meal, striking the perfect balance between classic ingredients and new techniques.
Ingredients
For the Salad
1 small napa cabbage, leafless bottom stems removed
2 blood oranges, peeled and segmented
2 oranges, peeled and segmented
1 green onion, thinly sliced
For the Dressing
1 clove garlic, finely chopped
Big pinch grated fresh ginger
1/2 teaspoon dark brown sugar
1/4 teaspoon freshly-ground black pepper
1 teaspoon kosher salt
3 tablespoons rice wine vinegar
5 tablespoons extra virgin olive oil
For the Spicy Shrimp
1 pound large shrimp, peeled and deveined
1-inch piece fresh ginger, grated
2 cloves garlic, finely chopped
1 1/2 to 2 tablespoons gochugaru, depending on desired spiciness
1 1/2 tablespoons soy sauce
2 tablespoons extra virgin olive oil
Directions
Soak wooden skewers in water for at least 1 hour.
To prepare the spicy shrimp: In a medium-sized bowl, whisk together the ginger, garlic, gochugaru, soy sauce, and olive oil. Add the shrimp and toss to coat with mixture. Thread the shrimp onto the skewers and set aside.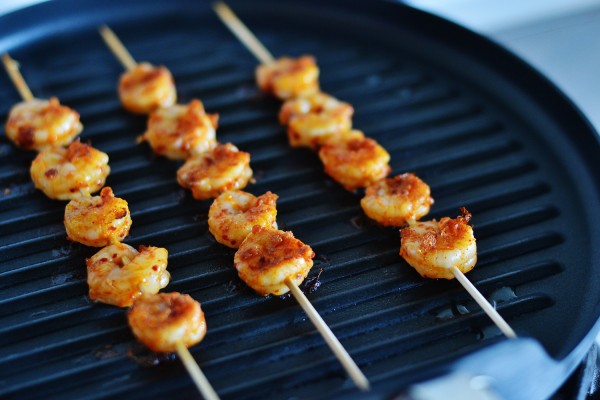 Heat a grill or grill pan to medium-high heat and lightly brush the grates with olive oil. Once the grill is hot, place the shrimp on the grill and cook for three minutes. Turn, and grill for an additional two minutes, until just cooked. Remove from the grill and set aside.
To prepare the salad dressing: In a small jar, combine the garlic, ginger, brown sugar, salt, pepper, rice wine vinegar, and olive oil. Seal the jar tightly and shake to thoroughly mix the dressing. Set aside.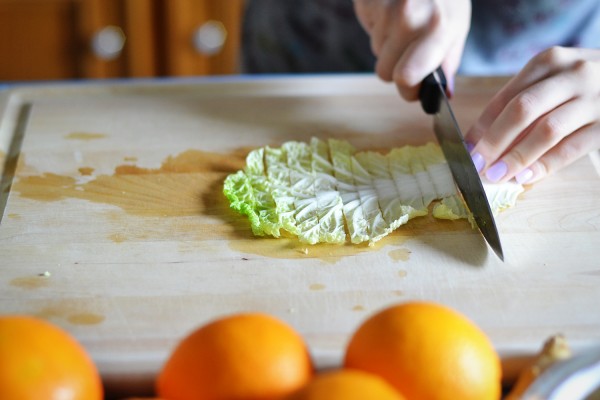 To prepare the salad: Remove the leaves from the napa cabbage and thinly slice.
In a large bowl, combine the shredded cabbage, green onion, oranges, and blood oranges, tossing gently to combine. Drizzle with salad dressing and toss again.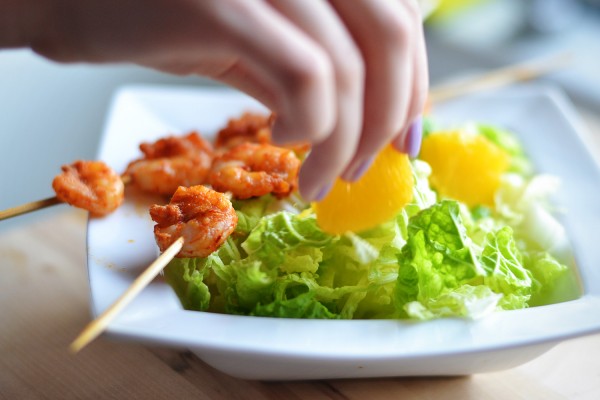 Divide the salad into four to six servings and add shrimp skewers. Serve immediately.
Check out Katie's blog here. Photo credit: La Kocinera >>
We're always looking for new, exciting content here at Kimchi Chronicles. Got a food blog with some tasty Korean dishes? Give us a heads up at info@kimchichronicles.tv.