This week we're featuring  Carol Han of Milk & Mode, who works in fashion as a creative consultant, and moonlights as a food/style blogger. Milk & Mode is equal parts delectable eats and enviable sartorial finds. Check out her take on Marja's miyuk guk, an incredibly healthy and tasty seaweed soup that's traditionally eaten on birthdays.
Birthday Seaweed Soup
It's Korean food week around here, guys. I recently picked up Marja Vongerichten's (that would be the wife of Jean-Georges Vongerichten) new cookbook on Korean cuisine, The Kimchi Chronicles, and now I'm hooked. I grew up eating the stuff (my Korean mother is the best home cook), but I've never really had a go of it on my own. This seaweed soup is something that Koreans traditionally serve on birthday mornings to ring in another year of good health, and making it brought back tons of good memories for me.
Not only is it really delicious, it's also a seriously effective diet elixir–all that's in it is a few slices of browned brisket, lots of healthy seaweed, and what will seem like an abnormally large amount of garlic (also, very good for you). Yum. xo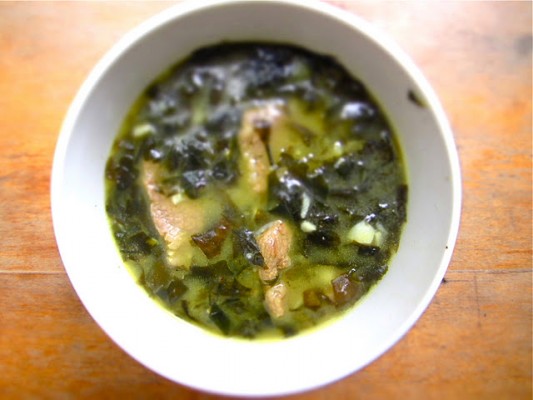 From The Kimchi Chronicles, by Marja Vongerichten
Ingredients:
2 large handfuls of dried seaweed, such as wakame
2 tablespoons toasted sesame oil
1/3 pound beef brisket, thinly sliced
Coarse salt and freshly ground black pepper
8 garlic cloves, minced
2 teaspoons fish sauce or dashida
Directions:
Soak the seaweed in cold water to cover for 10 minutes, drain well, and coarsely chop.

Meanwhile, heat the sesame oil in a large, heavy pot over high heat. Add the brisket and season with salt and pepper. Cook, sitrring now and then, until browned on all sides, about 3 minutes.

Add the garlic and seaweed and stir to combine. Add cold water to cover, bring to a boil, and skim off any foam that rises to the surface. Add the fish sauce (or dashida) and cook at a rolling boil until the seaweed is quite soft and the broth has taken on lots of flavor, about 45 minutes to 1 hour.
Check out the full entry at Carol's blog here! Photo credit: Carol Han >>
We're always looking for new, exciting content here at Kimchi Chronicles. Got a food blog with some tasty Korean dishes? Give us a heads up at info@kimchichronicles.tv.