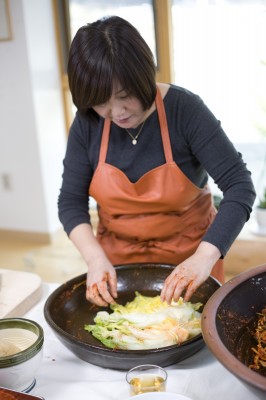 Viewers of the show will recognize Diana Kang, resident food guru and Marja's dinner date at some of Korea's tastiest restaurants. Aside from her pivotal role on Kimchi Chronicles, she runs a food marketing company called Wonderbox, where she works with major individuals and corporations in the food world. In short, she knows Korean food in and out, and it was our pleasure to have her on the show!
As Marja's most frequent dining companion in Korea, you were able to eat  at restaurants all around Korea. What and where was your favorite meal?
Although we had tasted many different varieties of food, I still remember the cold buckwheat noodles we had near Sokcho, the eastern seashore of Korea.  It was run by a grandmother together with her sons and grandsons.  It was one of the most memorable meals I have had in recent years.  The noodles were made with freshly ground buckwheat and seasoned with sweet and spicy sauce.  It was a simple noodle dish but filled with flavor.
Eating aside, what are your skills like in the kitchen? What's the food that you cook the best?
I enjoy cooking. Nothing too fancy, and mostly everyday, simple food.  I don't like to spend long hours in the kitchen. Over the years, I have  developed my own menu that tastes good but does not require long prep time.  This means that I tend to cook seasonal vegetables, and fish and tofu.  My family thinks that I make the best galbijjim, braised short ribs, and cold shrimp with cucumber, Korean pear and hot mustard sauce.
On the Kimchi Chronicles set, you were given the nickname "Korean Food Guru", for your extensive knowledge about food. What's your background  in food? When did you first decide to start a career pursuing it?
I have always been interested in food, because it was one of my family's favorite dinner table topics.  We would sit and discuss what to eat next even as we were eating a meal.  But I started to really learn more about Korean food when I started a monthly column in a Korean magazine about family recipes.  Through this experience, I had the opportunity to learn more about simple family style cooking and the importance of seasonal ingredients.  One thing led to another and I got more involved in food related projects, such as the Kimchi Chronicles.
What are some of your favorite memories from production?
My best memories, unsurprisingly, are all related to the food we shared with the production crew.  It was wonderful to work with such a highly  professional team and it was a great pleasure for me to introduce to them the diverse variety of Korean food.  In particular, I truly enjoyed our lunchtime visit to the elementary school.
What kind of work are you up to these days, and what's on your schedule for the future?
My company Wonderbox provides highly specialized marketing programs through food and culture.  We are currently working with several world  famous celebrity chefs and we also organize unique culinary events for our
client companies and their VIP customers.  Next March, we will be organizing special Gala dinners in Korea with Chef Thomas Keller.  In addition, we are in the process of developing a series on basic Korean food ingredients, such as salt, red pepper, sesame oil, and soy sauce.