During production of Kimchi Chronicles, street food made up a large percentage of our diets. A particular favorite was skewered food, all ease and convenience. Kevin Lynch of Closet Cooking shows us how to recreate dakkochi, Korean skewered chicken. His version incorporates his trusty bulgogi marinade recipe, and is served with  a dipping sauce of ssamjang. When not attending school, Kevin spends his free time looking for new recipes to try, and experimenting in the kitchen.
Dakkochi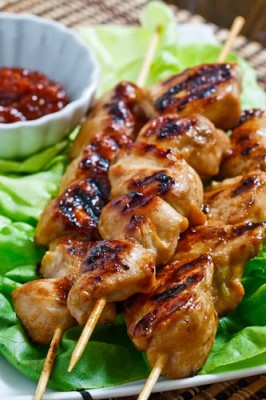 When I was making bulgogi, a Korean bbq beef, and in particular the chicken bulgogi, I could not help but think that the marinade would also work well on some grilled skewered chicken. The bulgogi marinade reminded me of a more complex teriyaki sauce that is sweet at heart but also packs a ton of flavour. With yakitori, a Japanese teriyaki grilled skewered chicken, being one of my favorite ways to grill up some meat on a stick, I was itching to try the Korean bulgogi version. A quick search of the web led me to dakkochi, a Korean skewered chicken street food and I was set to go.
I went with my pretty standard bulgogi marinade recipe and even though I often like to add some heat in the form of gochujang, a Korean fermented chili paste, I decided to omit it for the chicken skewer version in favor of a sweeter profile. Normally when making bulgogi I cook all of that tasty marinade up with the meat so that I do not lose any of the flavor but since that was not possible for the skewered version I decided to strain the solids from the marinade, simmer it down to a sauce and use it to baste or glaze the chicken as it cooked. The bulgogi skewered chicken turned out great! The chicken was nice and tender and juicy and just dripping with flavor! You cannot go wrong with grilled skewered meat and this skewered chicken is no exception! I could not resist adding some element of heat to the meal so I served the chicken along with some ssamjang, a Korean fermented chili and bean paste condiment, and some bean sprout kimchi all wrapped up in lettuce leaves for one tasty meal.
Makes 4 servings
Ingredients
1 pound chicken breast (cut into bite sized pieces)
3 cloves garlic (grated)
1 inch ginger (grated)
1/2 small onion (grated)
1/2 Asian pear (grated)
1/4 cup soy sauce
1/2 tablespoon sesame oil
1 tablespoon brown sugar
1 green onions (chopped)
1/4 teaspoon pepper
Directions:
Mix everything in a freezer bag and marinate for at least an hour.

Skewer the chicken on wet skewers and set aside.

Strain the solids from the marinade and simmer the marinade until it thickens and becomes saucy, about 5-10 minutes.

Grill the chicken until cooked, about 5 minutes per side basting it with the marinade as you go.
Check out the full entry at Kevin's blog here! Photo credit: Kevin Lynch >>
We're always looking for new, exciting content here at Kimchi Chronicles. Got a food blog with some tasty Korean dishes? Give us a heads up at info@kimchichronicles.tv.