There's only five short days left until Christmas, and if you're like us, there is still some last-minute holiday gift shopping to do. Here's a few special items we think would be great under any Christmas tree.
For the technology fiend: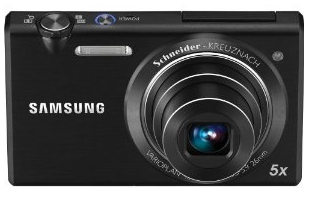 Samsung MV800 Digital Camera, $195 (Amazon):

Capture all those special holiday memories with the Samsung MV800 digital camera. It's sleek, impossibly thin and ultrachic. The cutting edge adjustable LCD screen tilts from 0 to 180 degrees to get the best shot possible. It'd be ideal to snap beautiful photos of some delicious Korean meals too!
For the kitchenware connoisseur:
Cuisinart 5-in-1 Griddler, $75 (Amazon):
This 5-in-1 Griddler is the epitome of functional and versatile kitchen tool. It's a contact grill, panini press, full grill, griddle, and half grill/griddle. The possibilities are endless. Kalbi and bulgogi lovers, look no further.
For the kimchi lover:
Kimchi, Prices vary (Hmart)

Is there such thing as too much kimchi? Surprise your kimchi fan with the best gift of all, a generous supply of our favorite spicy side dish that will last them a lifetime (or at least a few months…) Check out a few more awesome holiday options on Hmart's holiday page.
For the high rolling world traveler:
Flight to Korea, Starts at $1,495 (Korean Air)
The ultimate present for a world traveler? A round trip to Korea, of course. Give that lucky someone the unforgettable chance to experience Korea, and its delightful culture and cuisine.

For the Kimchi Chronicles biggest fan:
Kimchi Chronicles Combined DVD and Book set, $38.99 (Hmart)
If that special someone doesn't already have the Kimchi Chronicles cookbook and DVD set, then why delay? Get both at a deeply discounted price.