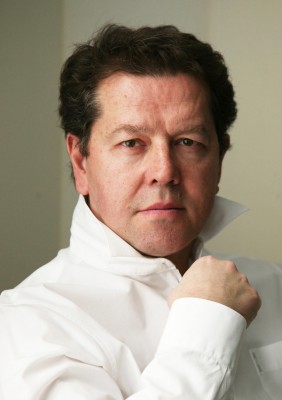 If you've taken a look at the Kimchi Chronicles Cookbook, one of the first things you'll notice is the beautiful photography. Responsible for these mouthwatering photos is Andre Baranowski, a NY-based photographer with a ton of experience in food photography. He boasts an  impressive resume, and has worked in editorial, advertising, and personal fine art work for big names such as Saveur, Time Inc., Kellogg, and many more. He's lauded for his ability to find a personal connection with his subject, and  identify and express deeper meanings in his photos. With just a glance at some of his photos, his sheer talent and skill are easy to see.
You've done a wide range of photography, from stills to travel photos… What was it like to shoot Korean food?
Korean food is very photogenic and I personally like to eat it. There are a lot of fresh ingredients, different textures and colors, and a beautiful variety of side dishes. My approach to photographing food is translating the sensation of eating to a visual experience that will have an immediate impact on viewers. Light, texture, and color are my main ingredients. I do like a simple, powerful composition. Even when I use multiple sources of light,  I aim to make them look like one. My philosophy is one of sophisticated arrangement for a simple outcome.
What are your favorite moments from Kimchi Chronicles production?
I love working with professionals. I learn so much from chefs, and people who work in fields like TV, advertising, and editorial. Most of what we do is a group effort, and we depend on other people for a product to look great. When everything goes well, it is such an amazing feeling to create something worthwhile and beautiful that will have an impact on other people. Kimchi Chronicles was such a case, with a bunch of wonderful people coming together to create an amazing product. Interaction on set was wonderful. I have a lot of great memories from just being there and taking photos.
How did you first decide to pursue photography?
First, I wanted to be a painter , but then in the 7th grade my father purchased a camera and I was hooked.I was born in Poland in a small town and there were a lot of interesting subjects to photograph, and I fell in love with photography. I could understand the world better, and I felt like I was giving back in a big way. Four years later, I had a prominent solo show in a real gallery. After finishing university, I opened my own studio, and took it from there. My job's taken me to amazing places, and through it, I've met some great people. Working in New York, with all of talent here, is just a total thrill.
What are you currently working on, and what are some of your upcoming projects?
Currently, I am talking with publishers about a few new book projects. I also do editorial work all the time, and I am working on a big national advertising campaign that I will shoot in December 2011. You can check out more of my work on my website.
What kinds of advice do you  have for future budding photographers?
Persistence, hard work, and talent are important. It is difficult to be an artist and make a living, so loving what you do is really important. As you work in a commercial market, having a healthy curiosity about your surroundings, and finding a way to protect what you do best and develop it to the highest level are key.