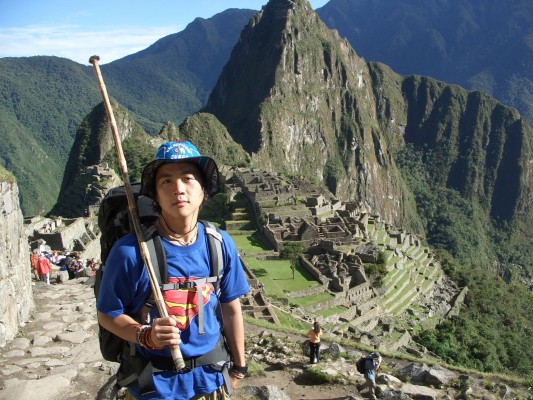 In addition to being an associate producer for Kimchi Chronicles, Hyunjun Kwon holds the titles of world traveler, home cook, and major foodie. Prior to working on the show, he produced TV commercials and documentaries. Then he traveled all around the world experiencing new cultures through their cuisine. He's currently writing a book about his adventures, which we're beyond excited about. We were lucky to have him as a part of the Kimchi Chronicles team!
You were the associate producer for the show. What other kinds of programs have you worked on?
At first, I worked on TV commercials for 4 years, but then I left to travel. For over 5 years, I traveled all around the world, and I went to 51 countries. Upon returning to Korea, I worked for a travel show on EBS called World Theme Travel (세계테마기행), a program about Argentina, Costa Rica, Uganda and India.
Being a native Korean, what was it like filming a Korean food show with an American team?
It was GREAT!!! All of the cast and crew member were very nice. There are a lot of differences between American and Korean styles of production and work. I thought it was really important to understand each other, so I made an effort to help the American team really understand Korean society and culture. I felt like they were guests in my hometown, so I tried to act as a host and make them as comfortable as possible. In addition, I learned so many things from them, and I'm so proud and glad I was a part of the Kimchi Chronicles team!
It's well known that you're a great home cook. What kinds of things did you see while filming that inspired your own cooking?
Cooking is one of my passions, and I'm always trying to learn more about foreign recipes, spices, and ingredients. Before working on Kimchi Chronicles, I was really confident in my Korean cooking skills, but I actually learned a lot of new things about Korean food, and got to understand its philosophy more deeply. Now I'm trying to cook Korean food more authentically, with an emphasis on health.
What are some of your favorite memories from production?
My favorite memories are spending time with the crew. I really enjoyed working with them, and it felt like they were my close friends, even my family. During filming, we were all very tired at times, and we provided great support for each other, and I consider them really good friends. I have a lot of  great memories of them, which I'm thankful for.
You're currently writing a book about your world travels. What are some of your favorite cuisines and dishes from countries you've visited?
Of course, my favorite cuisine is Korean! However, I do love to eat new foods and learn about other cuisines. I love Thai food, especially its fresh seafood, curries, and street food. I enjoyed amazing barbecue in Brazil and Argentina, really healthy meals in Turkey, and rich coconut flavors and fresh seafood in the Caribbean. Every country I went to had such amazing food, so it's impossible to choose just a few. My philosophy is that if a native eats it, I can definitely try it!
See Hyunjun in his cameo in Episode 7, The Fish Chronicles.