Madison Square Garden has recently revamped its concessions stand, with the help of major chefs in New York City, including Jean-Georges Vongerichten. His new stand at the Garden is called Simply Chicken, and it's serving a great selection of chicken-based dishes. From a chicken hot dog with kimchi relish and spicy mustard, to a grilled chicken sandwich with cucumbers and thai mayonnaise, these dishes have been inspired in part by the Kimchi Chronicles TV series. The ingredients are all organic and locally sourced, which is a major feat considering MSG's large scale production and hordes of crowds on game night.
Finger friendly, tasty, and convenient, any of Jean-Georges approved dishes would be an ideal dinner tonight at the Lakers vs. Knicks game where Kobe Bryant faces off against the NBA's latest Asian sensation, Jeremy Lin!
Check out the recipe for the Jean-Georges Grilled Chicken Sandwich here and read on for the hot dog recipe:
Hot Dogs with Kimchi Relish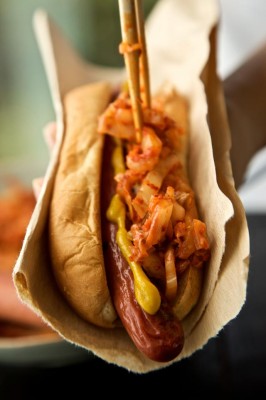 Ingredients
1/2 cup kimchi, thinly sliced
2 teaspoons honey
2 teaspoons rice vinegar
4 hot dogs
4 hot dog rolls
4 tablespoons Korean hot mustard
Directions
Preheat a grill to high or preheat a ridged cast iron grill pan over high heat.

Mix together the kimchi, honey, and vinegar in a small bowl.

Grill the hot dogs until browned and crispy, and lightly grill the rolls until they're golden brown. Put the hot dogs in the rolls and top each one with 1 tablespoon mustard and one-quarter of the kimchi relish.