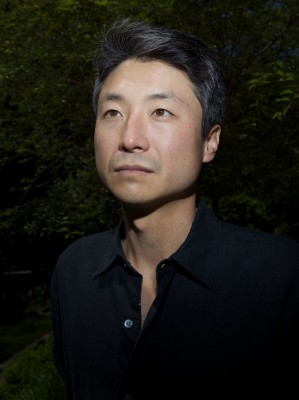 To say that Chang-Rae Lee is well known in the Korean American world is a serious understatement. The award winning author and Princeton professor has written 4 widely acclaimed books, and the most recent, The Surrendered, was a nominated finalist for the 2011 Pulitzer Prize for Fiction. In addition to being an exceptionally talented writer, Lee's an enthusiastic foodie and oenophile who's written for major glossies such as Food & Wine, Gourmet, and Travel and Leisure, to name a few. He shares some of his favorite Korean recipes and restaurants with us below!
What are some of your favorite Korean foods to eat and to cook?
I love gop chang jeongol — the flavor that the intestines lend to soup is wonderfully deep and rich. I order this when we eat out, as it's a bit difficult to get the ingredients for home cooking. At home I often make what my daughters enjoy best, which is just a simple meal of grilled pork belly and sliced short rib (unmarinated) that I sear on a cast iron hot plate. We dip the meats in salt and peppered sesame oil and have it with various namul (sprouts) and a doenjang or kimchi jjigae. Heaven.
What are your top 5 Korean restaurants to eat at around your area? (Princeton, NJ?)
We  drive up to Edison, NJ, which is the closest town with a number of establishments. I like Chung Sol Bat and Keum Ho Jung there plus we often will get something quick at the new big Hmart food court — Korean fried chicken and jjampong and of course lots of traditional Korean options. I also like Gahm Mi Ok in Fort Lee — open 24 hours.
Kimchi Chronicles is about making Korean food accessible for everybody. What sort of advice would you give people new to Korean cooking?
Get all the basic ingredients but then don't worry about exactly following recipes — they're just guides, so go by taste. Korean food is essential pretty simple, but gloriously so.
If you were to give a dinner party, who would be your ideal guests?
Anyone who adores food and wine has an open palate — and mind. I like good conversation and I like to have fun, in whatever form it might take.
What/where have some of your most memorable meals been?
Dining at the White House for a State Dinner this past October. The food was pretty good but being there for a special event was pretty magical. And our post-wedding meal, which was just a family lunch for 14 at La Cote Basque. We couldn't afford it but splurged for good champagne and everything was charmed and perfect. I don't even remember what we ate.