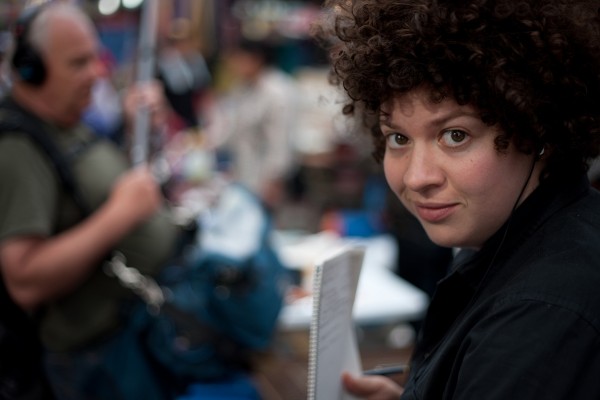 Julia Turshen wears many hats: she's a private chef, writer, producer, cookbook author and all around full-time foodie. As an associate producer and cookbook author for another PBS series, Spain… On the Road Again, she brought her considerable talent and expertise to the Kimchi Chronicles team. After traveling extensively in Korea while on location, she co-authored the Kimchi Chronicles cookbook, which she calls a major crash course in all things Korean cuisine. Her work has been featured in Gwyneth Paltrow's newsletter GOOP, Interview Magazine, and Food & Wine, just to name a few.
You were an associate producer for Kimchi Chronicles, and also served as co-author of the cookbook! What was it like writing a Korean cookbook?
Co-authoring the cookbook with Marja was a complete crash-course in Korean food.  I came into the project knowing as much about Korean food as most New Yorkers who go out to eat a lot.  Which is to say, I knew how to wrap Korean BBQ in a lettuce leaf and that Korean fried chicken was something I could potentially develop a real addiction to, but I didn't know much about where the ingredients and traditions came from.  Working on the cookbook was a superb education.
You were on location in Korea during production: What was this this experience like?
Traveling in Korean with the crew during production was the greatest mix of work and play.  We pulled long hours gathering content and then topped it off with lots of norebang and drinking and snacking (all of which enable each other). More than half of the crew in Korea had carried over from Spain… On the Road Again and everyone we hadn't worked with before quickly became part of our eclectic, hard-working family.
Kimchi Chronicles is about making Korean food accessible for everybody. What  sort of advice would you give people new to Korean cooking?
It was really helpful for me to discover that Korean cooking is very unpretentious and quite forgiving. It's not a highly technical or super precise cuisine. It's much more about abundance, about being unafraid of big flavors and bold seasonings. So my advice would be to not try too hard, to embrace red chili and garlic, to dive in.
How did you decide to pursue a career in food? What do you currently working on, and what are some exciting upcoming projects?
I don't feel like I've ever had a choice but to work in food—I've cooked since before I can remember and food has been the driving force behind just about every decision I've made.  Currently, I'm doing a lot of private chef work and I am also in the early stages of a new cookbook that has a healthy bent to it.
As a fan of Korean food, what's your go-to Korean dish that you make often? What would you make for Marja?
I've definitely started incorporating lots of Korean ingredients and dishes into my cooking and friends keep asking for more bibimbap and also for scallion pancakes.  People love scallion pancakes! For Marja, I'd probably make some sort-of fried chicken sandwich, maybe a little kimchi mayo to garnish.