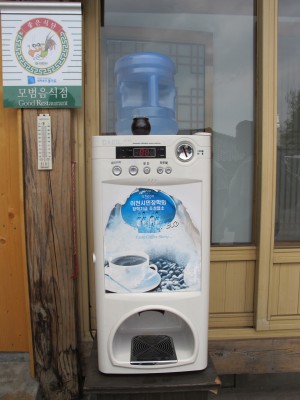 Over the past few years, coffeehouses have been popping up like crazy all over Korea, and the trend has only been fueled by the uber-popular MBC drama, The 1st Shop of Coffee Prince. Akin to the US' Starbucks culture, Korea is developing a coffee culture all its own. In Korea, coffee is the new tea.
Instant coffee is readily available, and automatic coffee makers are ubiquitous, found near the exit of just about every Korean restaurant. A dime will buy you a small paper cup of instant coffee that you can knock back just like a shot. In Korea, coffee is treated with efficiency, but it's also rapidly becoming a place for coffee connoisseurs.
Nowadays, Korea is becoming increasingly saturated with coffee shops, and you can find one on virtually any street corner, offering quality fresh roasts from all over the world. The demand for better coffee is rising, and as a result, coffee franchises have exploded. Joining Starbucks are major chains like A Twosome Place, a specialty dessert and coffee shop.
There are also some unique niche coffee shops in Korea, such as the popular Giocat Cafe. At this cafe, coffee enthusiasts can drink lattes and pet cats too. There's even a poster on the wall with all of names of the cats, accompanied by descriptions of their temperaments. Feeling sad? Pet a kind cat like Ho-ya the Siamese! Who knew cats and coffee were such a delightful combination? It's clear that Korea's taking its coffee trend in unique new directions.