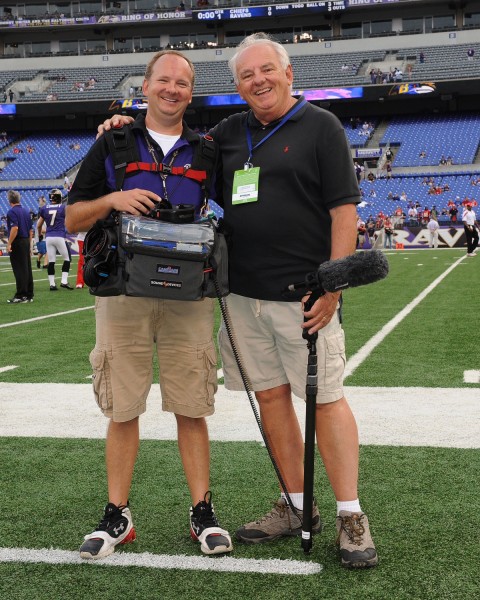 The production team consists of the people who helped make Kimchi Chronicles truly happen, and Don Barto Sr., the man in charge of sound production, was an integral part of the group. He runs a company called Soundriven Pictures with his son, Don Barto Jr., and is responsible for making the music and dialogue in the show work seamlessly. He's been interested in music all his life, and jumpstarted his career as a composer before including sound engineering. Having previously worked on Spain – On the Road Again, he came to Kimchi Chronicles ready with an impressive arsenal of skill and experience.
How does working on a food program like Kimchi Chronicles differ from your other experiences in the industry?
There are different levels of food television.  What viewers may not realize is that at our level, the food is almost like another character in the production.  Everybody might be ready to roll, but if the food isn't ready or if it isn't right, the production isn't ready.  And on the other hand, when the food is ready, everybody and everything else has got to be ready or the food "dies" and the whole preparation process needs to start again…sometimes from scratch.  The rules of the sound department: "Be there, be ready, be quiet."
What is one of your best memories from working on Kimchi Chronicles and traveling in Korea?
I had been to Korea 20 years earlier on another production.  On the Kimchi Chronicles shoot, we traveled many of the same roads and even stayed at a hotel I had been to two decades earlier.  It was interesting to note the changes, and the many wonderful things that hadn't changed at all.  One thing that had changed the most was me–I was now 20 years older, and I couldn't help but notice the different and wonderful way I was treated by younger Korean people…with great respect and always with a genuine interest in what I was saying or thinking about something, about anything.  Not at all like in American society, where youth is everything.
What was the absolute best meal that you ate while in Korea?
Each meal was better than the one before, starting with samgyeopsal and  grilled kimchi filled ssams, to BBQ chicken,  kimchi jjigae, fried mung bean pancakes at the market, shellfish jeongol….but I have two ultimate favorite meals, both in Sokcho. The number one meal was a cold soup with buckwheat noodles at a little roadside restaurant, and the other was an outdoor BBQ pulled together by our producer Eric Rhee and our Korean crew members one night in a vacant parking lot near our hotel. We ate grilled pork bellies, squid, clams, and of course kimchi and lots of beer, makgeolli, and soju.
How would you describe Korean food for those new to the cuisine?
To a typical American eater, Korean food is full of unusual ingredients used in very unusual ways, with noticeably more vegetables, and meat and fish used more sparingly than in a typical western meal. The flavors that come to the table are very bold and complex, often the result of fermentation…and sometimes what seems to be a lot of wonderful salt and garlic and other aromatics.  If something is red, it is red hot! Much of what I normally eat here in the states has 1 or 2 or 3 flavor sensations.  Korean food can easily offer up to twice as many.  I now eat mostly Korean influenced American food–Korean techniques and flavorings applied to the local ingredients that are fresh and abundant here at home.
What was your role in Kimchi Chronicles production? What kinds of responsibilities were involved?
On location, my job was to record all of the sound, mostly with hidden body mics placed on the people appearing in each scene.  Hiding a mic quickly and so that it sounds good is a lot like picking someone's pocket, only maybe in reverse.  Picking pockets and hiding mics are both "Dark Arts" and are both very interdisciplinary. It's equal parts science, luck, psychology and misdirection.
In post production back at home, I worked a lot with music for the series, testing out many many cuts of existing Korean music against rough-cut video sequences and getting feedback from the rest of the production team, as to what people liked and didn't like. Then armed with a selection of music we all agreed was right for the series, I would fit the various pieces of music into the scenes as they were edited.  The final step, for me, was to then blend the music, dialogue, and sound effects together to make each scene and each episode come alive and seem more real.
The biggest challenge?  Kimchi Chronicles is very much a real life show, and in reality, people tend to talk all at the same time, especially when they are happy and comfortable and having a good time.  My job often times was to weed through the many overlapping and competing voices and lead the listening audience through what was going on so it all didn't just sound like a free-for-all.