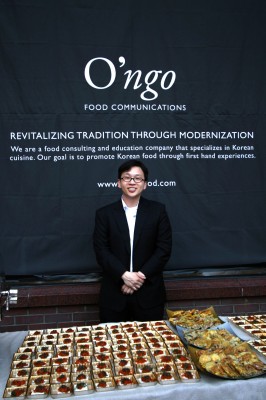 Daniel Gray of Seoul Eats originally came to Korea simply because he needed a change of scenery, and now he's running one of the most popular food blogs in Seoul, and even a food communications company too.  Gray's a true foodie; he makes his living eating food, writing about it, and teaching others about it, so we were very excited to have him on Kimchi Chronicles. He appears in Episode 12, the Pork Chronicles, where he, Marja and Heather did a taste test of three of  Seoul's finest pork restaurants.
When it comes to eating in Korea, why exactly  is a good rule of thumb to go where the taxi drivers eat ?
Taxi drivers don't mess around. They want real Korean food and they want it done right. Dealing with traffic and nagging customers all day can really work up an appetite and nothing is as satisfying as Korean food. They want food that is hot like spicy fish soup or filling like spicy porkbelly stirfry with rice. Also, at these restaurants there is no judgment. Most drivers come by themselves, so eating by yourself here is ok- whereas other places might make you feel out of place (Koreans rarely eat alone). Finally, taxi drivers are the most mobile of people in Korea. If a restaurant isn't good, they can easily go somewhere else.
Jean-Georges and Marja aside, who would you have at your ideal dinner table?
Ruth Reichl, because she inspired me to pursue food writing and to build a culinary tourism company.  Her chapter in Garlic and Sapphires about how Korean food could be renamed in order to attract foodies directly influenced my work on the Korean food dictionary for the Korea Agro-Fisheries Trade Corporation. Besides Ruth, I would love to invite Neil Patrick Harris because I grew up watching him on TV and I have since learned that he is a foodie. I would also love to have Thomas Keller at the table as well for I have spent years marveling over his books. Finally, I would invite Monk Dae-Ahn. She is one of my good friends and I would love to introduce her to the other guests. I think they would be interested in her fresh take on Buddhist temple cuisine.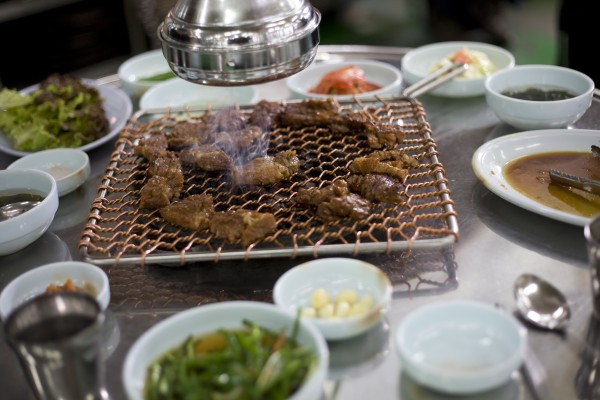 You ate at three of Seoul's best pork restaurants , Songgane Gamjatang, Heukdonga, and Dongmakjip with Marja and Heather. Which one takes the cake?
Songgane Gamjatang is my favorite because I love gamjatang– especially on a cold day. This spicy potato in pork broth stew is a dish that intensifies in flavor the longer you sit with friends. Korean potatoes sponge up the pork broth and become savory mashed potatoes.The dish is fun to eat as you pick out the meat from the pork bones and it pairs well with cups of soju.
Kimchi Chronicles is all about sharing Korean food with the world. What should people absolutely know about Korean food?
Korean food is exciting and it is food that should to be shared with friends. It is flavorful and fun to eat. There is so much that you can learn about people from the food they eat. The Korean table showcases the characteristics of the nation. It is a country that is generous, diverse, passionate, and social. Go out and eat Korean food with your friends and you'll see what I mean.
What are your top 5 restaurants in Seoul?
That's a tough one because there are so many restaurants that specialize in different styles of food. If I was in Seoul for a short trip, I would say that the must eat places would be: