Recipes
Marja's Makgeolli Ice Cream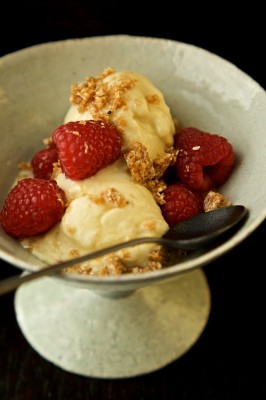 Featured on Episode 8 – The Seoul Food Chronicles
Serves 6
Ingredients:
1 ½ cups heavy cream
1 ½ cups makgeolli
½ cup maple syrup
6 egg yolks
½ cup sugar
Chopped sesame seed brittle for serving
Raspberries, for serving
Maple syrup, for serving
Notes:
Makgeolli ice cream is a recipe inspired by a meal I ate at the Ninth Gate restaurant in Seoul. Dinner ended with a sorbet made with makgeolli, a very popular Korean alcoholic beverage brewed from rice. It was served in a little cup made of beet. Very cool (literally). On its own, makgeolli tastes like a sort of cross between sake and ale; transformed into a sorbet. It was a refreshing end to a rich meal. Turned into an ice cream sweetened with a bit of maple syrup, it becomes an unexpected, addictive dessert.
Directions:
Combine the heavy cream, makgeolli, and maple syrup in a medium saucepan. Bring to a simmer over medium-high heat. Meanwhile, whisk the egg yolks and sugar together in a large bowl.
Whisking constantly, slowly pour the hot cream mixture into the egg yolk mixture. Return the mixture to the saucepan and cook over low heat, stirring now and then, until thick enough to coat the back of a wooden spoon (swipe your finger across the wooden spoon and if the clean line holds its own, it's perfect), 4 to 5 minutes.
Pour the mixture through a fine sieve into a clean bowl and allow it to cool completely (you can speed this up by placing the bowl over a larger bowl of ice and water). Pour the ice cream mixture into an ice cream machine and freeze it according to the manufacturer's instructions.
Serve on its own or with chopped up sesame brittle, raspberries, and a little drizzle of maple syrup.