Recipes
Marja's Easy Braised Chicken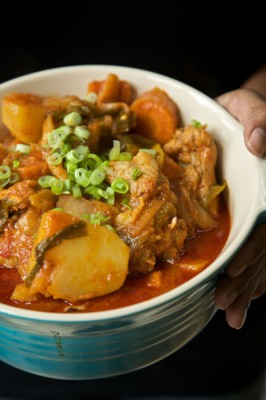 Featured on Episode 9 – The Chicken Chronicles
Serves 4
Ingredients:
One 4-pound chicken
Coarse salt and freshly ground black pepper
Umma Paste
1 tbsp soju, sake, vodka, or water
1 tbsp honey
8 small boiling potatoes, peeled
2 medium yellow onions, coarsely chopped
2 carrots, cut into 1-inch pieces
2 bunches scallions, cut into 2-inch pieces
1 fresh green chile pepper, thinly sliced (optional)
1 fresh red chile pepper; thinly sliced (optional)
Cooked white rice, for serving
Directions:
Cut the chicken into 10 pieces (2 wings, 2 drumsticks, 2 thighs, halve the breasts).
Season the chicken pieces aggressively all over with salt and pepper. Heat the oil in a large, wide heavy pot over high heat. Working in batches if necessary, add the chicken, skin-side down, and brown on both sides, 6 to 7 minutes per side.
Meanwhile, whisk together 1/2 cup water, the Umma Paste, soju, honey, and sesame seeds. Set the sauce aside.
When all the chicken is browned, add the potatoes, onions, carrots, scallions, and reserved sauce to the pot and stir everything together. Reduce the heat to medium-low, cover, and cook, stirring now and then, until the chicken is cooked through and yielding and the potatoes are tender, 1 hour to 1 hour 15 minutes.
Sprinkle with chiles if you'd like and serve with rice.